Towel spa Binh Dinh are these type of towels are used in the spa in Binh Dinh. The whole point of these products is produced by the brand Nam Phong. Each type of scarf will have the certain and should not be confused cloths together. This article will send to you the useful information to share about the application of cloths, spa. Let's take the time to discover it.

Learn of towels Men Style
Basic characteristics
Towel spa bath due South-Style production as the product has many sizes varied. In which the most common size is 70*140cm. Scarf design rectangle, length 140cm, and width is 70cm. With this size, help the spa facilities easily applied in many diverse situations.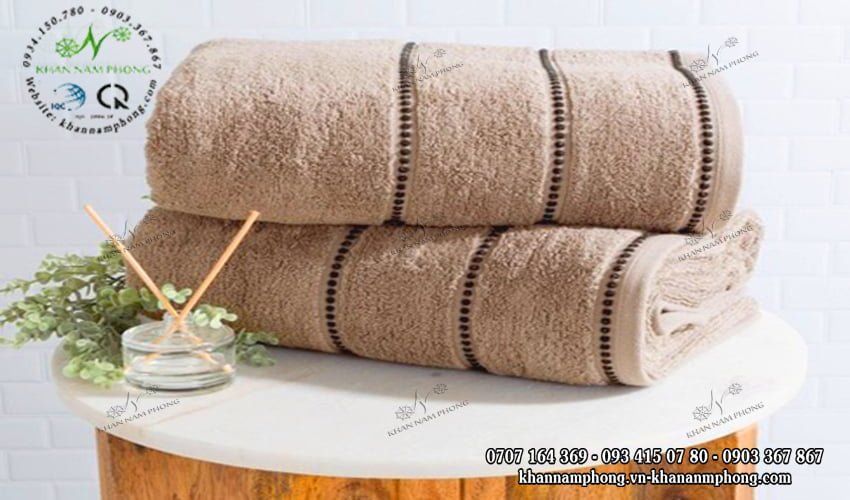 Towels, bathroom spa has many different colors, depending on the material that the customer selected will have the color difference. The current in the line bath towels, spa, Male Style are providing two types of main material: cotton & microfiber. Here are two popular material in line bath towels on the market.
Outstanding advantages 
Advantages of towel spa type towels Southern Style: the ability to absorb water well, quickly take away all traces of water clinging on the body, safe and benign with every skin. There are also antibacterial, high durability, good color and duration of long-term use.

Towels Men Style there are aesthetic, matching with most of the spa facilities in the province of Binh Dinh. Whether using after a period of time, but towel retains beautiful colors. More is not wrinkled, rough, excessive like fabrics are often.
Main uses 
Use of towels Men Style: use to clean and wrap the after the bath, help dry the body avoid being cold. At the spa, bath towels is the type of towels are very many customers love to use. Not only wipes the towel also can do scarf wrap body are. Can even do layers of doilies or cover up when you need to relax.
Things to know about bedspreads spa 
Basic characteristics 
The base at Binh Dinh can't ignore products bed linen by Nam Phong offer. Bed linen is line towel to cover up the spa bed. Instead of to the bed of a dry, lack of aesthetics, with the companionship of bed linen, bed spa will become more beautiful and more impressive.
Outstanding advantages 
Bed linen, spa, aesthetics, modern, unique colors, new. Now Men Style there are several diverse colors, the customer can refer to and choose favorite color: pink, purple, moss green, grey...A note is whether customers choose any color, but should sync options to create really professional.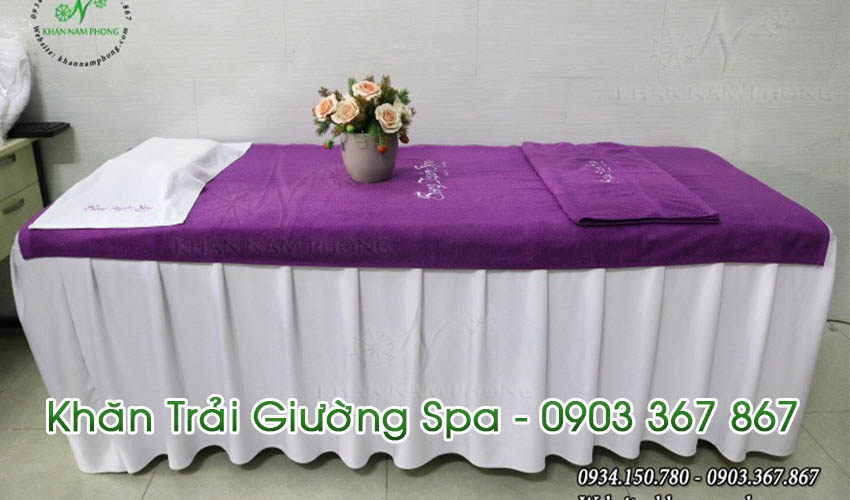 Ví dụ trong cơ sở spa có tổng 10 chiếc giường spa thì nên sử dụng trọn bộ 10 khăn trải giường đồng màu. Không nên sử dụng các loại khăn trải giường với quá nhiều màu sắc lẫn lộn. Nếu làm như vậy sẽ khiến khách hàng khi vào spa, cảm thấy bị chói mắt và không có cái nhìn thiện cảm.
Main uses 
True to the name, towel spa Binh Dinh in line, bed linen, spa effect is covering up the spa bed/ mattress. When lying on spa bed, the user will come into contact with bed linens, not in direct contact with the bed. Free scarf has soft material should naturally when the customer is relaxing on the bed, will be feeling extremely comfortable.

This is very important for the business model, service spa. The satisfaction of customer will help the picture of a spa was known more widely, contributing to the spa flourished.
About product line wiper arm Men Style 
Basic characteristics 
One of 3 patterns scarf spa Binh Dinh need to have, not to mention hand towels. Hand towels on the market there are very many, but is the spa in Binh Dinh trusted only brand new, that's all. The characteristics of the wiper arm Men Style: compact, lightweight design, the size is only about 34*34cm should be easy to use and compact folding.
Outstanding advantages
Towels are made from cotton & microfiber should be absorbent ability. Compared with other types of fabric, often, the ability of absorbing water of the wiper arm Male Style superior many times. Moreover, the towel is durable, duration long-term use. A one-time investment, but the spa is used continuously for many months. Advantages so will help spa save considerable financial resources.
Main uses 
Hand towels Nam Phong is used to dry hands, which helps protect the hand skin of the customer. At the spa, customers as well as employees often have to contact with water to clean the hand skin. Therefore, if there is no hand towels will be extremely inconvenient. Hand towels will absorb water quickly, back to the user, the skin dry and cool.

>>> Read more: Towel Spa in Binh Thuan Wholesale Prices & Cheap – CALL NOW: 0903 367 867

Scarf with absolute safety to all skin. Absolutely not cause any irritation discomfort. So you can be assured of choice.