With the spa facilities are looking for sample spa uniforms in professional and modern, please refer to the right of 6 patterns uniform, spa be revealed in the following article. Here are the uniforms are millions of customers love and trust. Not only are high fashion, uniform, there are also many deep value help highlight the brand image.
10+ Sample Spa Uniforms in Binh Duong Weekly Updates

Color Uniform, Spa Common Is Many Spa Options
White blue 
Highlights of the models, uniform, this is a combination of two tones white and pure blue nuggets gently. The dominant colors of the coat is white, bring a sense of elegance and modern. Contour V-neck and lacing system sleeve blue nuggets to create the attraction.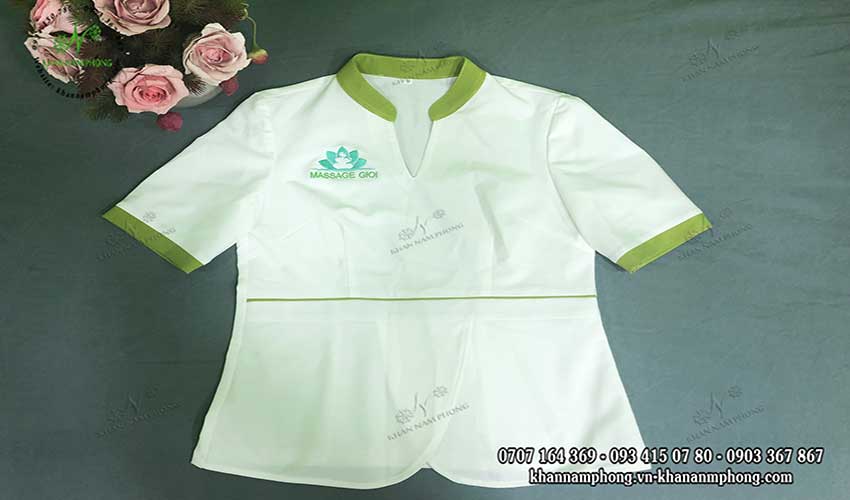 The dresses are designed with the long flowing robes are woven skillfully together. Design, form, small, young, suitable for all ages. Fabric material soft, cool and helps the wearer to always feel pleasant and well-ventilated. Absolutely not is the secret or unpleasant though in a long time.
Pale pink 
If the spa facilities are looking for a soothing colors, feminine for female employees, then don't miss out template, uniform, spa pale pink. This is also one of the models, uniform, best-selling in Nam Phong. Be liked by the simple, template, uniform, this still occupy all thanks to the many striking focal point.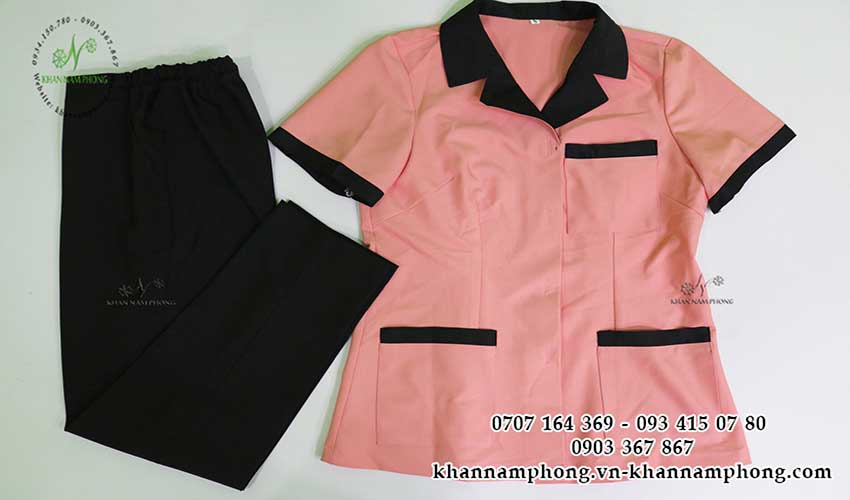 Differences in patterns of pink outfit compared to the model uniform, another that is the design of the austrian part. Coat design 3 special bag( usually only design 2 bags), should help the wearer can hold/ store some personal belongings, small. Jacket has the combination of pink and black contour. Purpose to help the overall product is more prominent.

Design tubular back easy to wear.The on systematic chun good elastic, fit with more different objects. Uniform have more size diversity. The customer when ordering to note than with the manufacturer, to be counseled about the size size.
Gray 
Minimalism is friendly most clearly in the template, uniform, spa, pacific grey. Gray, however, was muted tones but many spa options. The reason is because this color is not easy to expose stains. Grey is also very trendy tastes of users.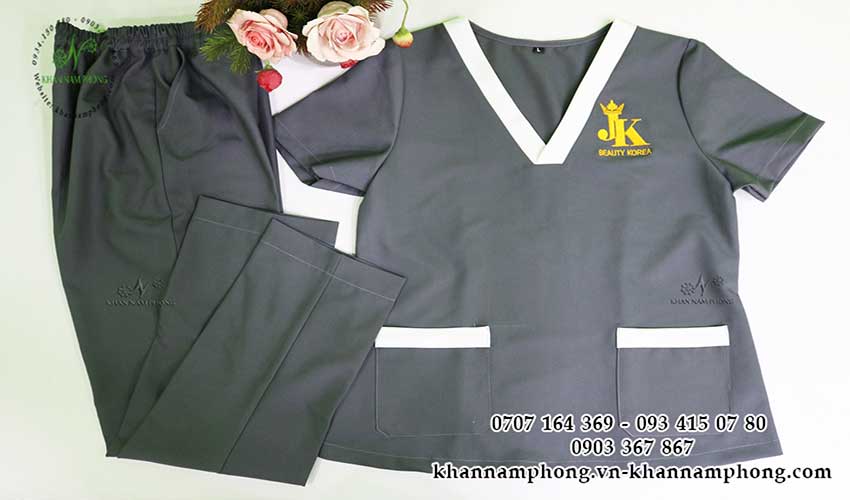 Uniform is made from high quality materials cotton cold high level, so the surface fabric is soft naturally. Ventilation capacity gas well, when worn will not feel uncomfortable due to the perspiration off. In the process of work, the fabric can absorb sweat good to feel comfortable and natural.

Road sewing, delicate with embroidery embossed brand logo. This helps to distinguish with other brands. At the same time help a brand identity better.
Color black tan 
Template, uniform, black color way tan is a uniform cause fever market, Binh Duong in recent times. The uniform was designed based on the dominant color is black occult. This is the uniform the way from design to material.

Dress designed V-neck modern and make the wearer feel comfortable and not be cramped in the neck as some regular patterns. Austria has highlight is yellow border stretching from the neck to the coat. In addition, the yellow border also appears in both sides of the neck sleeves.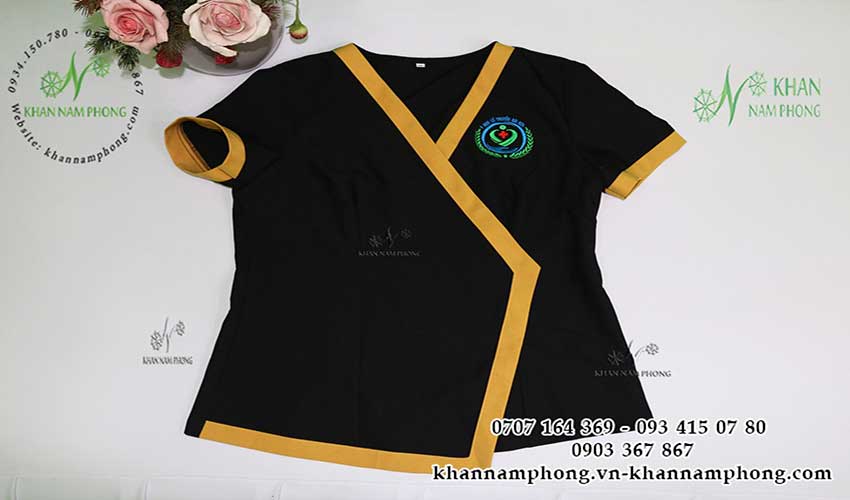 Purple 
Sample spa uniforms Binh Duong purple aesthetic, trendy, very worthy to reference and choice. The overall product is designed according to modern style, young, contributes up physique wearer. Here's uniform with a combination of tops and pants full set of the same color.

On the shirt are attached to two buttons buttons to to be fixed down to two dresses. Form design form down should be fairly easy to wear, most people can get kind of uniform this. High quality soft smooth fabric, secure with skin.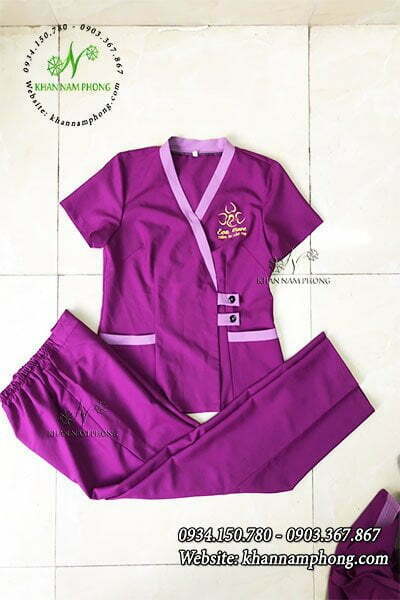 Blue 
Skip template blue uniform will make many customers feel regret. Uniforms gained much interest by the color fresh, modern. Style chic design and have more hit points. Brands of the spa is embroidery embossed in a subtle way up on the coat, help products are high aesthetics over.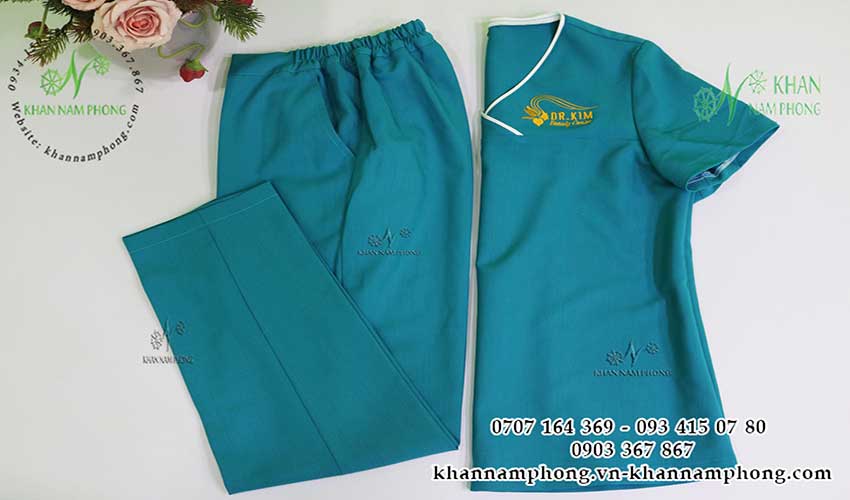 Read more:
7+ reasons to choose Spa Uniforms Nam Phong in Binh Duong
Have sewing workshop at Ha Noi, ho chi minh CITY.
May according to the customer request from 4 sets/1 Model.
Diversity color, material for customer choose.
Time to complete orders quickly.
Fast delivery in Hanoi & ho chi minh CITY.
Our team of consultants experienced in the field of spa, beauty salons.
As a strategic partner of uniform for many units across the country.
Row is check carefully, the right color, material before delivery to the customer
Support embroidered brand logo up uniform to the clients.
Call now 0903 367 867for advice quotes templates spa uniforms to customers
To order template, uniform, spa very simple, you just need to contact immediately to Nam Phong. One is the production of uniform, prestige, Nam Phong don't make customers disappointed by his professionalism.